Inn at Happy Adventure
About Us
About the Owners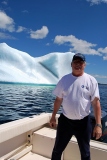 Chuck Matchim grew up in this area and is passionate about the region, its water and history.
A successful business and restaurant operator with over 30 years experience, Chuck is excited about the Inn and its features, especially his new venture into the hospitality industry with Chucky's Seafood and Wild Game restaurant.
Chuck also ran Smokey Hole Boat Tours in the region for many years highlighting his knowledge of the region, the bays and inlets. A trip to Smokey Hole will be one to be remembered.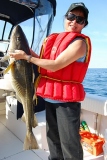 Brenda Matchim has been travelling to the Eastport area for close to 40 years with her husband Chuck and has developed a love for the area.
Brenda has a diploma in Food Technology and has offered her hand to the wonderful Menu presented at the Inn, as well as being an accomplished artist. The Inn will be a showcase of her art so drop in and take a tour today.
About the Location
Named for the infamous pirate Peter Easton, the name Happy Adventure supposedly resulted from a successful outing of seeking and receiving shelter in the community's harbour.
This quiet community was permanently settled in 1868. The first recorded settlement was as early as 1710, with 2010 marking its 300th anniversary.
There is also a nice picnic area (Little Sandy Cove) and beach where, if the tide is low, you can dig for clams, known locally as "cocks and hens". Happy Adventure also has great vantage points for whale watching or just admiring the surrounding scenery. From the Inn you can take a 15 minute walk in the country to the beautiful white sandy beaches of Sandy Cove